Tesla
Paintless Dent
Paintless Dent
Repair
ONE DAY REPAIR | FREE LOANER CAR* | INSURANCE ACCEPTED
PDR: THE BEST REPAIR SOLUTION FOR DENTS & HAIL DAMAGE IN TESLA VEHICLES
Paintless dent repair is the best option to fix dents, dings, creases and hail damage in Tesla models. The benefits of choosing PDR for Tesla dent repair include:
WHAT CAN PAINTLESS DENT REPAIR FIX?
Dent Shop's technicians have extensive experience using paintless dent repair techniques to fix dents, dings and hail damage on all Tesla models, including:
DENT SHOP TESLA PDR REPAIR IN ACTION
Our precision and care in providing top-notch paintless dent repairs has enabled us to successfully fix hundreds of Teslas as if the damage never occurred. In fact, due to our nationwide reputation of quality work, Dent Shop Owner Paul Kordon used paintless dent repair to fix one of the first Tesla Model S vehicles on the east coast.
Dent Shop has years of experience removing dents from Tesla models with aluminum and steel panels. We can confidently complete such repairs swiftly and safely to return your pride and joy to pre-damaged condition.
DENT SHOP IS ELECTRONIC VEHICLE CERTIFIED
Dent Shop possesses the Institute of the Motor Industry (IMI) Level Two Electric Vehicle Certification, which grants authorization to safely power down your Tesla for paintless dent repairs.
Our team has proper training and hands-on experience with electric vehicle components, wiring systems and high-voltage parts. Such knowledge is essential to undertake the special safety precautions necessary to repair dents on electric vehicles.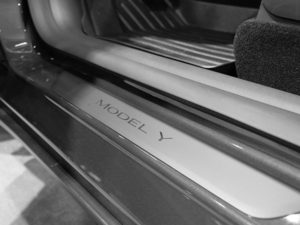 Contact Your Nearest Dent Shop for a Free Estimate
DENT SHOP IS THE NATION'S PDR LEADER
Experience the Dent Shop difference and get back on the road with your beautiful Tesla in pristine condition today.
Quality Guaranteed. Experts You Can Trust. Extensive Repair Experience with All Types of Tesla Models.