Body Shop
Alternative
Alternative
Paintless Dent Repair (PDR) Equals Fast, High-Quality, Cost-Effective, Insurance-Preferred Dent Repairs
No Repainting – No Parts – No CARFAX – No Diminished Value
ONE DAY REPAIR | FREE LOANER CAR* | INSURANCE ACCEPTED
WHY PAINTLESS DENT REPAIR?
THE SUPERIOR ALTERNATIVE TO AUTO BODY SHOP REPAIRS
Discover why paintless dent repair delivers faster,
smarter and easier dent removal.
WHAT CAN PAINTLESS DENT REPAIR FIX?
HOW PDR RESTORES YOUR VEHICLE'S VALUE AND APPEARANCE
HOW PDR
RESTORES YOUR VEHICLE'S VALUE
RESTORES YOUR VEHICLE'S VALUE
AND APPEARANCE
Our qualified paintless dent repair technicians completely remove dents, dings, creases and large panel damage from vehicle exteriors while keeping the factory finish paint intact. To accomplish these minimally invasive repairs involves:
Massaging the damage out from the backside using metal tools
Pulling the bent metal up from the outside with glue tabs
Under well-lit conditions and a trained eye, our technicians complete hundreds of steady, careful pushes and pulls in order to slowly massage the panel back to its original shape to retain the factory finish. PDR makes it look like the damage was never there.
WHY PDR IS THE BEST DENT REPAIR OPTION
Traditional auto body repairs are more invasive and time-consuming than PDR. Your car might be in the shop for weeks as they fill in and paint over the damage for a labor-intensive cosmetic fix. Repainting devalues your vehicle. Avoid a CARFAX report and poor fit, finish and color match from repainting. Save time and money while restoring the value of your vehicle with
paintless dent repair
. When your vehicle gets dented or dinged, contact your local PDR experts first for a free evaluation. At Dent Shop, we'll assess the damage and tell you if PDR is suitable.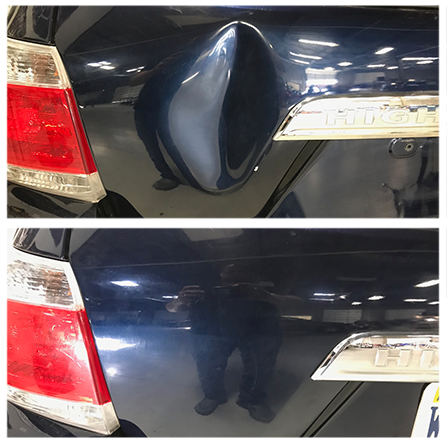 WHY DENT SHOP IS THE NATION'S PDR LEADER
Contact Your Nearest Dent Shop for a Free Estimate